June Mullins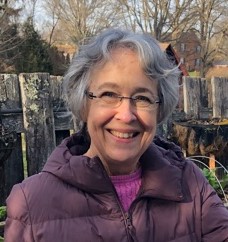 About the artist
June Mullins is a long-time resident of Blacksburg. She earned a BS degree in the Physical Sciences from Colorado State University and a Masters in Reproductive Physiology from Virginia Tech. Though the degrees are in science, courses in art were worked in wherever possible through the years, along with workshops, primarily through the Guild of Natural Science Illustrators. She is married to Donald E. Mullins, a professor in Entomology at Virginia Tech, and has two grown children, Heather and Aaron. While science served as a vocation, art and illustration have served as an avocation, including over 30 years of free-lance illustrating. June has numerous illustrations published in scientific journals and text books, including a cover design (Nov. 2000) for the journal Anatomical Record. Much of her anatomical illustration is reproduced in a monograph entitled "Illustrated Anatomy of the Bovine Female and Male Reproductive Tracts – From Gross to Microscopic.
More recently, June has enjoyed portraying natural science subjects in watercolor paintings, and has also begun working with acrylic on wood. Much of this work stretches the real into a surreal interpretation with a message.
As a more fun application, she also has a group of "Buggable" insect cartoon characters.